Please note that this is the Oumagadoki Zoo Wiki's article on The Oumagadoki Zoo is the zoo that is running by Shiina, if you are looking for the article on Oumagaoki Zoo, the main topic of this wikia then you should head to Oumagadoki Zoo.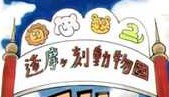 Oumagadoki Zoo
(逢魔ヶ刻動物園
Oumagatoki Doubutsuen
, secretly hidden as 逢摩ヶ刻動物園) is the zoo that were been hidden in the hills of Oumagadoki City. The zoo is running by
Shiina
the lunatic human that has been transformed into an rabbit. The zoo closes at 4:44 and all the animal transformed and are able to talk thanks by Shiina's smoke.
Hana
is there as the respective zoo keeper and she will help Shiina to make Oumagadoki the most popular zoo in the world.
Opening Time - 9:00
Closing Time - 4:44
Cost - 500 yen


According to Shiina there are 30 animals in the zoo, and the zoo is separated in four different areas according to its cardinal points(The Predator Area is North, Powerful Area is West, Fancy Area is East, and Mixed Area is South).
Zoo Keeper
Edit
Community content is available under
CC-BY-SA
unless otherwise noted.